According to foreign media reports, after the last push after the storm, strong push Microsoft Win10 idea is still not extinguished. Just two months there will be time to stop free updates Win10 mark, many users find Get Windows 10 started without the user's permission to order the time to upgrade to Windows 10, which means that the entire upgrade process may occur without the user's full knowledge.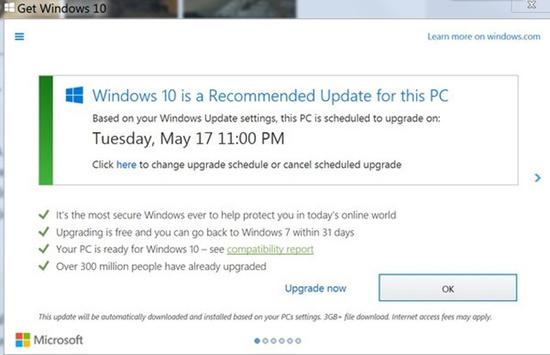 From February this year, Windows 10 had already started to upgrade the system as recommended by the pushing stage. Although the user's computer will automatically download upgrades, but whether or require the user to install the final determination. If you find yourself in after the upgrade does not like the new version of the operating system, you can roll back to a previous version in 31 days. And apparently, this time the "upgrade" more subtle than before, which is so much Win7 users to compare head pain.

Microsoft spokesman has repeatedly stressed that last July 29, Win10 will stop the update, before that you want users to be able to update your system to Win10. Get Windows 10 and the application will be canceled and will be removed in the global computer.

Microsoft's goal is within three years to make one billion devices running Windows 10. Currently, Microsoft is working toward this goal. Recently, Microsoft also reminded users to upgrade to Windows 10 as soon as a free upgrade period coming to an end. After July 29 this year, the listing of the first anniversary of Windows 10, Windows 10 users will need to upgrade to pay costs. For example, upgrade to Windows 10 Home Edition costs $ 119.

Research firm Net Market Share Latest data show that the current PC market is still the mainstream operating system Windows 7, the market share of 48.79%. Windows 10 and ranked second in market share of 14.35 percent. Windows XP ranked third in market share of 9.66%.